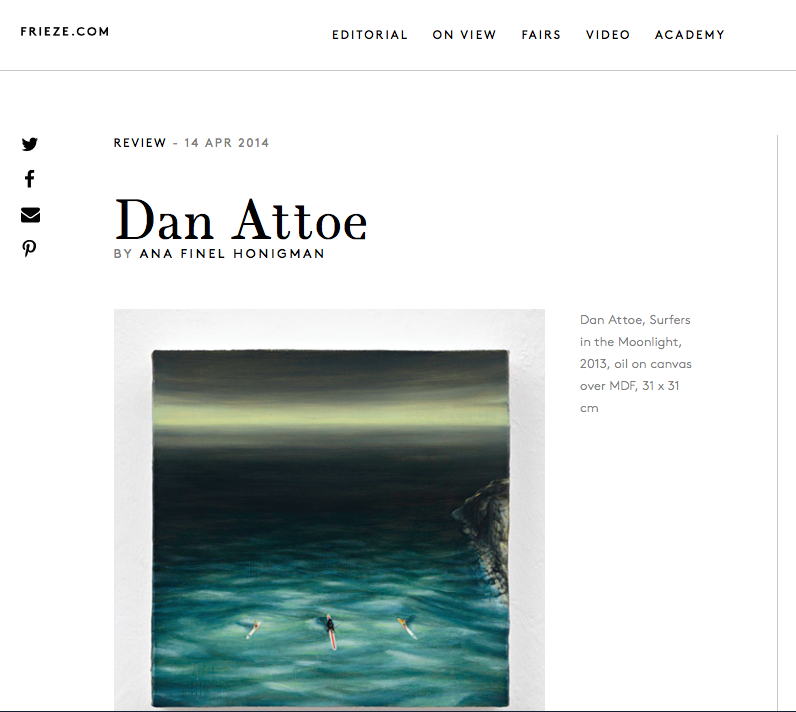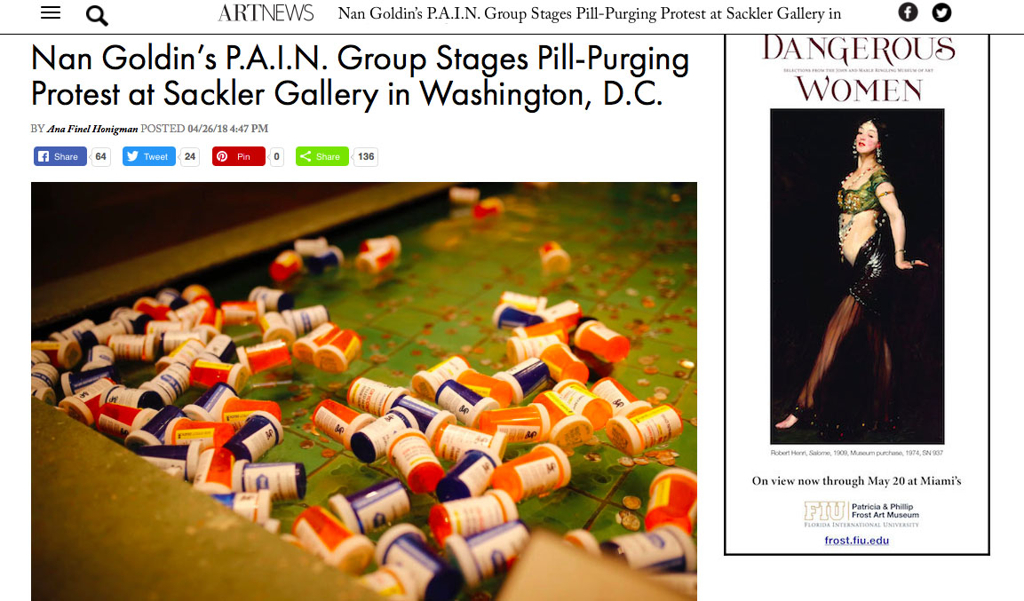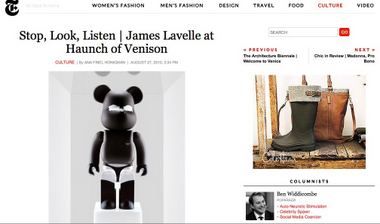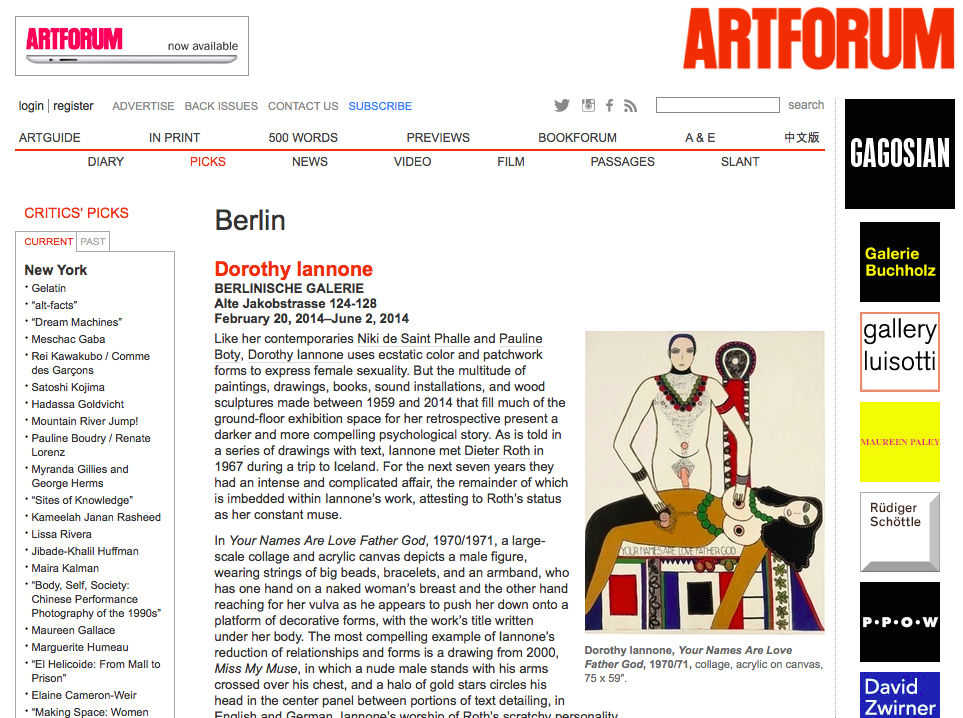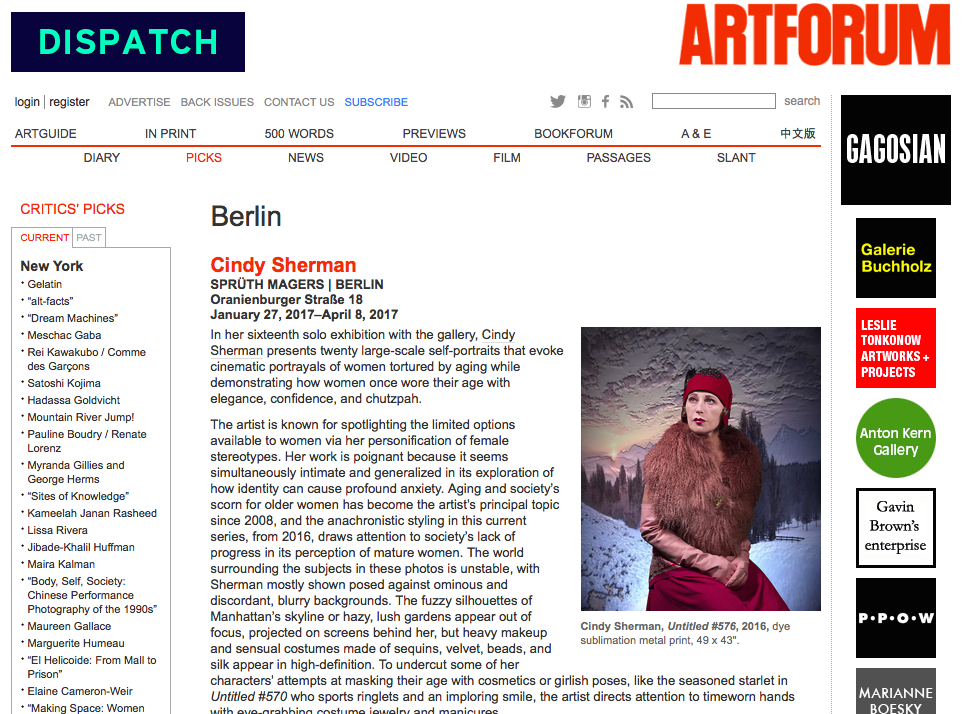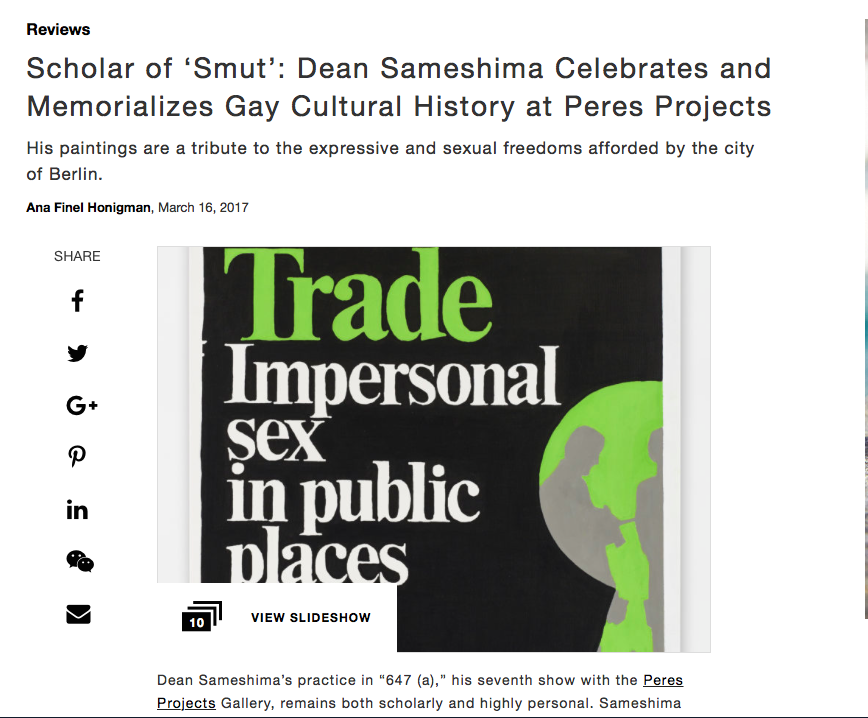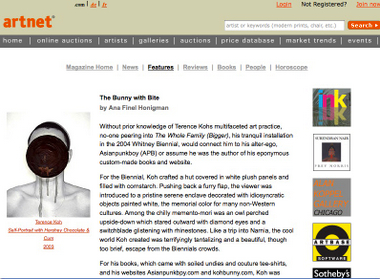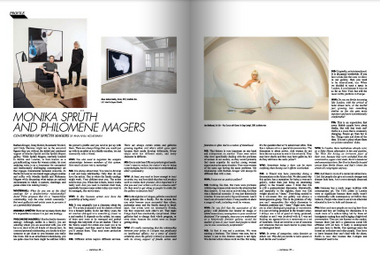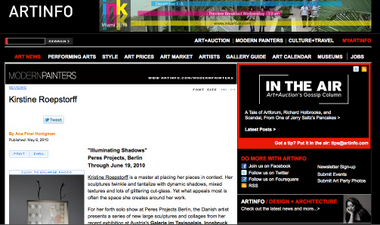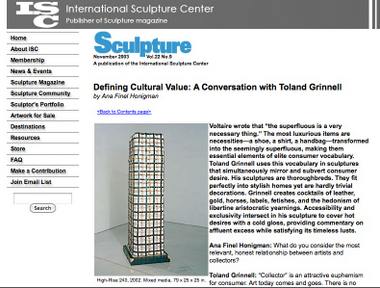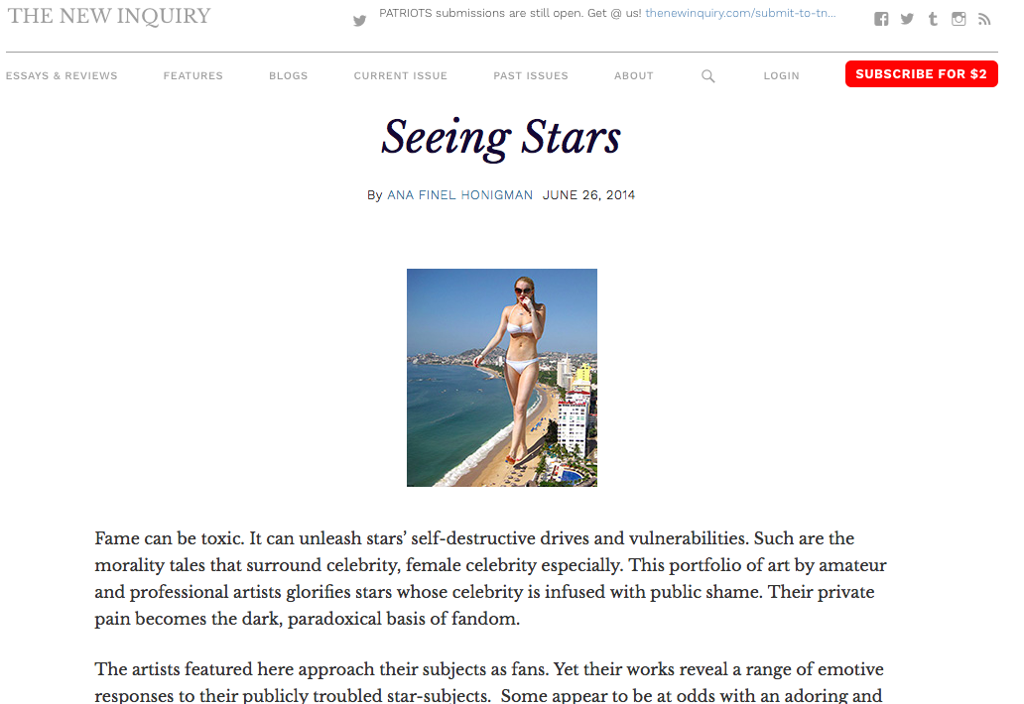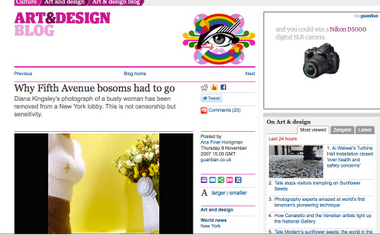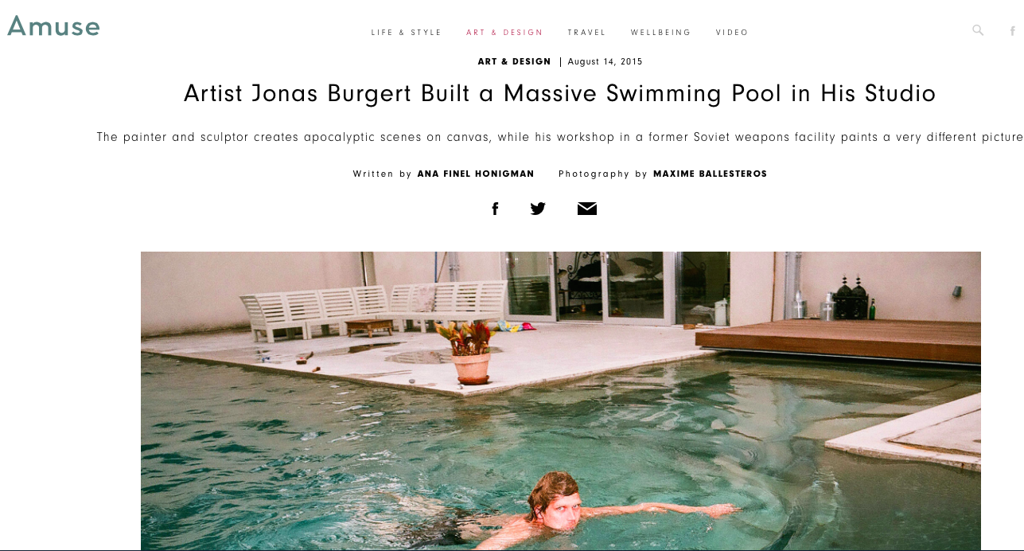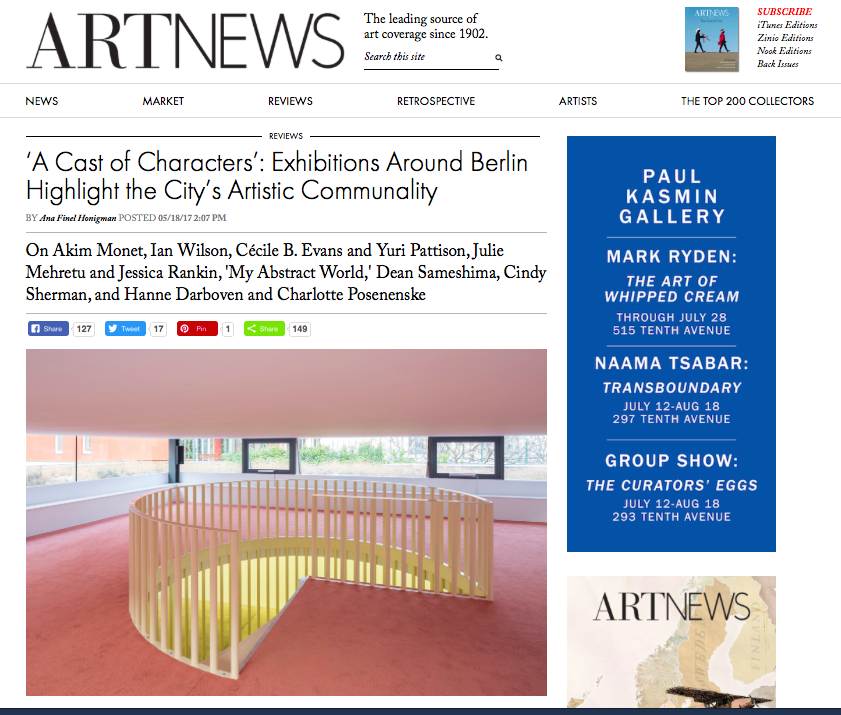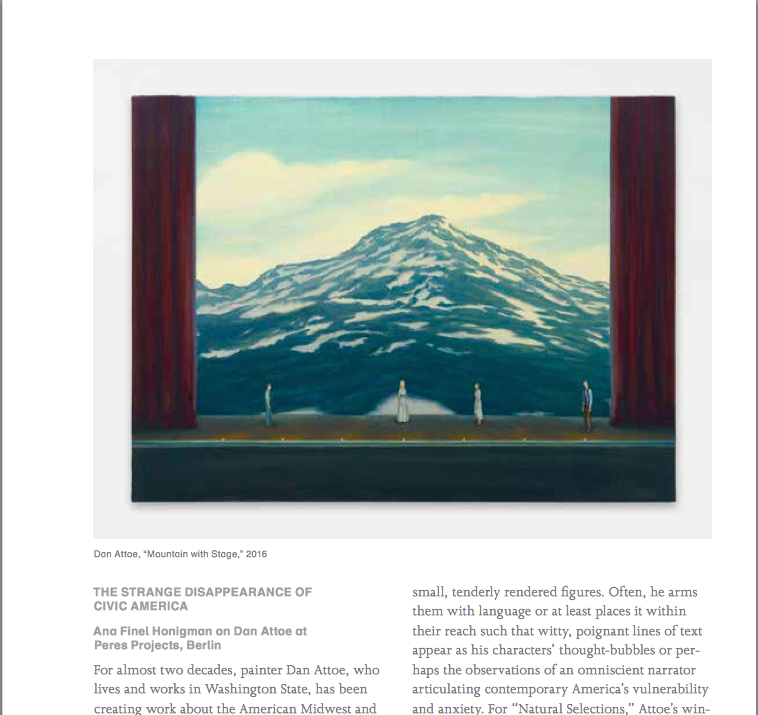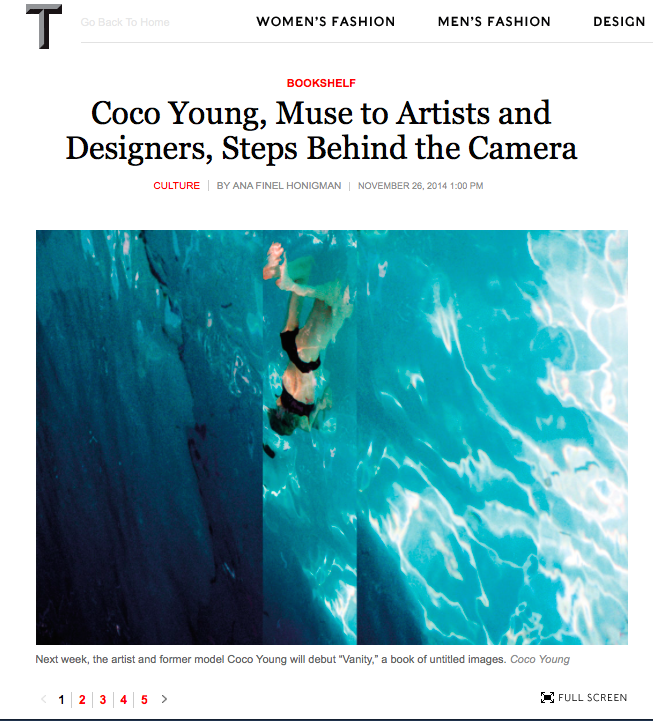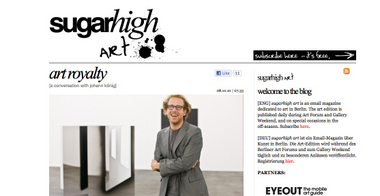 ARTNEWS
ARTFORUM.COM
[Laurie Hogin (critic's pick)](http://Laurie Hogin)
BOOKFORUM.COM
FRIEZE.COM
James Franco Welcomes You to Gay Town
An Art Star Turned Scarf Tsar
Coat Tale
Frieze Frame
Pretty Is As Pretty Does
Just KAWS
English's Language
Vince Aletti on Weird's Science
The Surreal McCoy
Where there's Smoke, There's a Delinquent Art Dealer
Worth the Wait
A Day at the Zoo
Fame, What's Your Name
The Origins of Boho Chic
Sack It To Me
Iekeliene Wants The World To Look Like A Polaroid
Going for Baroque
Clayton Cubitt's Empire of Dirt
Sex Outside the City
Dirty Pretty Things
Arms Deal
What Rot: Anya Gallaccio and Chantal Akerman in London
Air Supply
Hidden Agenda
Creative Differences
The Hi-lo Country
Frieze Art Fair: Cory Arcangel's Ticket to Ride
Liz Craft's Surreal World
Brigid Berlin Picks up Every Stitch
Swap Shop
Detail Oriented
House and Garden
Free Art! Well, Almost
Poppy De Villeneuve Snaps Indie Fans, But She'll Take Ravel
Faking It
R U Going to This?
The Beauty Myth
Mark Rothko at the Tate Modern
Time after Time
Ride 'em, Cowboy
Art from Jeanne Greenberg Rohatyn's Private Collection
Henrik Vibskov, Multi-Hyphenate
The Collector: Susan Hancock at Royal/t
Hope and Glory
Looking Smart
Rank and File
Peel Good Art
Best Friends Forever: Daisy de Villeneuve And Natasha Law
She's No Lightweight: Sam Taylor-Wood at White Cube
Ike Ude Sees Spirituality in the Sartorial, Lady Diana in Paris Hilton
Connect the Dots
Making Up is Fun To Do, Says AMAE
Money Changes Everything
Pick Up Every Stitch
Miller's Time
Poppy De Villeneuve Snaps Indie Fans, But She'll Take Ravel
Faking It
The Beauty Myth
Gathering For the Hunt
Acid Trip
Art from Jeanne Greenberg Rohatyn's Private Collection
Henrik Vibskov, Multi-Hyphenate
The Political Accessory
Hot Town, Summer in the City
The Yin, the Yang, and the Man who gave Birth to a Mural
Artists as Homemakers
Grand Illusions at Spencer Brownstone
The Devil Inside…the Gallery
Our Town
Studio Voltaire Braces Itself
Beatrice Coron's Paper Cuts
Crowd Control: the Brooklyn Museum Takes it to the Street
Sebastian Buerkner Feels your Pain
Brad Browses, Death Metal Tastes its Own Medicine
If the Shoe Fits, It's Still Not Yours
Rebel Yell
Hugs and Kisses from Berlin
Think It's Hot in NYC? Try Dubai
The Art of Giving
Fashion Forward: Louise Bourgeois at the Guggenheim
Through a Glass Darkly
Ryan Gander's Creative Block
Mixed Messages
Reading Between the Lines
The Gold Standard of Gustave Klimt
Model Analysis, Degas Style
The Not-So-Discreet Charm of Anton Unai
Flora, Fruit Stage Art World Return
Self Service
American Tourister
A Whole Different Ballgame
Fire Starter
Love Story
She is a Femme Fatale
Now You See It
Mirror Image
Power Art
Massive Appeal
Suburban Outfitter
Ballet Recital
Move Over Dubai, Doha is Moving Up
Wolfgang Tillmans Holds a Grunge
Not Another Teen Movie
Mixed Master
Risk Management, Art World Style
The New School
Art School
It's a Family Affair
Ice Maidens
Gone in 20 Seconds
Cash and Carry
Alien Residents
Spin Cycle
An Affair to Remember
Straight Out of Korea
Food for Thought
Guerilla Girl
What's Love Got to Do With It?
A Detail Oriented Haunted House
Many Inspirations of Fiona Rae
Keeping Up With Jones Beach
A River Runs Through Javier Peres
Frieze By the Sea
Intimate Tricks: Tim Noble and Sue Webster
Leo Fitzpatrick, Unlimited
Matthew Stone: Seeing the Unseen
From the Economic Grave: Frieze
It Ain't Pretty: Art in the Hamptons
To the Wind: Portraits by Jazz Minh Moore
Paging: Bettina Rheims
Artist Zhivago Duncan Gives INTERVIEW 15 Minutes of Fame
Melt-Down in Berlin
Closer: Cecile Evans
Ad Busters
Cotton Candy Man
A First Time for Everything
Looking At Food: Fanny Maugey
Heaven and Hell Meet in Berlin
The Many Faces of Alia Raza
Video Did What?
Lights Out on the Art World
Sam Branton: Shades of Noir
The Return of Saul
In the Streets
A Painter of Modern Life
Venice Underdogs
Venice Preview: Elmgreen & Dragset
Apple of Your Eye
Inside the Actor's Portrait Studio
Cleaning Up After Berlin Gallery Weekend
Strike a Pose
Meta Magazine: It's You, Not Me
The Future of Amerika
Javier Peres: The Third K is for Kindness
Deeper Underground: Clayton Cubitt
Batlle's Food Fight
SAATCHI ONLINE
Elle Muliarchyk talks to Ana Finel Honigman
Henry Krokatsis Talks To Ana Finel Honigman About Turning Smoke And Mirrors Into Grown-Up Versions Of The Velveteen Rabbit
Early Work - review
Dan Attoe in Conversation with Ana Finel Honigman
Terence Koh in Conversation with Ana Finel Honigman
Marie Weber in Conversation with Ana Finel Honigman
Ana Finel Honigman on Collier Schorr at the Deutsche Guggenheim
Ana Finel Honigman on Art and Fashion
Nicky Hoberman's 'Project Man (Professional Masochist Seeks Narcissist)'
Ana Finel Honigman's Top 10 Shows in Berlin: April 2011
Ana Finel Honigman's Top 10 Shows in Berlin: A Surreal Start to 2011
Leila Pazooki Discusses Her New Berlin Show
Ana Finel Honigman's Top 10 Shows in Berlin: October 2010
Saatchi Online Weekly Top 10 Chosen by Ana Finel Honigman
Alexei Biryukoff: Saatchi Online Critic's Choice By Ana Finel Honigman
Saatchi Online Top 10 Chosen By Ana Finel Honigman – 17 – 23 May 2010
Ana Finel Honigman On Get Behind Me Satan And Push At Peres Projects, Berlin
Saatchi Online Top 10 Chosen By Ana Finel Honigman – 19-25 April 2010
Sarah Ayoub Agha: Saatchi Online Critic's Choice By Ana Finel Honigman
Saatchi Online Top 10 Chosen By Ana Finel Honigman – 25 Jan To 31 Jan 2010
Ana Finel Honigman's Top 10 Berlin Shows January Through April
Ana Finel Honigman's Top 10 Berlin Shows
Nathalie Pirotte: Saatchi Online Critic's Choice By Ana Finel Honigman
Ana Finel Honigman's Top 10 Berlin Shows For August Through September
Ana Finel Honigman's Top 10 Berlin Shows
Matthew Stone in Conversation with Ana Finel Honigman
Ana Finel Honigman And Friends Celebrate The Life Of Dash Snow
Saatchi Online Top 10 Chosen By Ana Finel Honigman – 20 To 26 July 2009
Joshua Levine: Saatchi Online Critic's Choice By Ana Finel Honigman
Dickson Schneider: Saatchi Online Critic's Choice By Ana Finel Honigman
Saatchi Online Top 10 Chosen By Ana Finel Honigman – 27 April To 3 May 2009
Ana Finel Honigman: What Happened To The Vip 'art Star'?
Pat Colella: Saatchi Online Critic's Choice By Ana Finel Honigman
Saatchi Online Top 10 Chosen By Ana Finel Honigman – 16 – 22 February 2009
Bradford Bailey And Rutherford Chang In Conversation With Ana Finel Honigman
Fran Recacha: Saatchi Online Critic's Choice By Ana Finel Honigman
William Powhida In Conversation With Ana Finel Honigman
Clayton Cubitt In Conversation With Ana Finel Honigman
Orly Genger In Conversation With Ana Finel Honigman
Josh Powell In Convesation With Ana Finel Honigman
Dean Sameshima In Conversation With Ana Finel Honigman
Bruce la Bruce In Conversation With Ana Finel Honigman
David Lock In Conversation With Ana Finel Honigman
Natalie Frank In Conversation With Ana Finel Honigman
Anne Hardy In Conversation With Ana Finel Honigman
Faiza Butt In Conversation With Ana Finel Honigman
Sara Rahbar In Conversation With Ana Finel Honigman
Nigel Cooke In Conversation With Ana Finel Honigman
Antonio Zaya and Hugo Martinez In Conversation With Ana Finel Honigman
Ellen Harvey In Conversation with Ana Finel Honigman
ARTNET.COM
SCHOLAR OF 'SMUT': Dean Sameshima Celebrates and Memorializes Gay Cultural History at Peres Projects
ELEVATION 1049 SUBJECTS ART TO THE ELEMENTS
OVERWHELMING LIFE: Alex McQuilkin tells why we should all stop worrying about her.
UNIVERSAL LEONARDO: Martin Kemp tells why Leonardo da Vinci is still fascinating but art writing isn't.
MAGIC KINGDOMS: Laleh Khorramian talks about fantasy, Disney and history.
SPANKING THE MEDIA: Collage artist Raven Schlossberg talks about porn and politics.
SWAN'S WAY: Anh Duong talks about being her own muse.
PUNKS AND PROFITS: A conversation with Marxian art critic Julian Stallabrass.
NOTHING FANCY: The wit and wonder of Martin Creed.
RESURRECTION: New York artist Phoebe Washburn recycles the world.
NETWORKING: Orly Genger weaves sculptures about words and women.
OLD SCHOOL: Painter David Nicholson looks to the Old Masters.
FAKE PLASTIC TREES: Katie Grinnan talks about art and the ecosystem.
ART CRITICISM: Mocking convention with painter Ellen Harvey.
ALL-IN-ONE: Kenny Schachter breaks barriers.
LE TEMPS DES SOUVENIRS: Carol Bove and the sixties.
24-7: Talking about action and obsession with Ryan McGinley.
TELLING TALES: A conversation with Amy Cutler.
CHOP CHOP: One, Two, Sue de Beer is coming for you.
BURROWING DEEP: Discussing mice and man with Adam Stennett.
THE RUSH: Zak Smith talking past the stuff said to sell the work.
THE BUNNY WITH BITE: A conversation with "Asianpunkboy" a.k.a Terence Koh.
BIRTH PAINS: A conversation with Paul D. Miller/Dj Spooky a.k.a That Subliminal Kid.
UNDER THE SKIN: Talking shamanism, surrealism and superstition with Hope Atherton.
CONSUMER PARADISE: Talking sex and consumerism with Toland Grinnell.
THE ART SHOWMAN: A conversation with the "Pope of Trash," John Waters.
HORTICULTURE BERLIN: A report from the 11th annual Art Forum Berlin.
BERLIN HORTICULTURE: Javier Peres, Terence Koh, My Barbarian, Huang Yan, F.C. Gundlach, Dieter Mammel, more.
LONDON HORTICULTURE: Gary Hume, Sara White Wilson, Armando Anrade Tudelo, Ivan Navarro, Boo Ritson, Bridget Riley.
LONDON HORTICULTURE: Spring has sprung, with works by Maaike Schoorel, James Aldridge, Andrew Mania, Nigel Cooke, Jacques Nimki, more.
NEW YORK HORTICULTURE: Gerald Davis, Rob Pruitt, Aaron Young, Dash Snow, Frank Magnotta, Lindsay Brant.
NEW YORK HORTICULTURE: Barbara Kruger and Christian Jankowski, plus new art at Cuchifritos and Rivington Arms.
LIKE A PRAYER: Contemporary devotion in Ryan McGinley's photographs of Morrissey and his fans.
INSPIRED: Evoking the muse at Leslie Tonkonow.
WASTED YOUTH: Rita Ackermann's gothic revival at Andrea Rosen.
GIRLS AND GORE: A survey of Kiki Smith's printed works at MoMA Queens.
THE COLOR OF TURMOIL: Howard Hodgkin's new paintings at Gagosian Gallery.
GUARDIAN ARTS AND ARCHITECTURE BLOG
Christie's acquisition of a gallery should concern us all
Surrealism is drowning in a sea of lazy misinterpretation
Intelligent art is a foolish concept
Biennale looks to past instead of present
Political artists should get their hands dirty
Web sights: Ubuweb, the thinking person's YouTube
Web sights: Manhattan's Neue Galerie
A gay martyr? Lovely, I'll take it
Photography is no snap decision for collectors
Why is feminism out of fashion in contemporary art?
Evaluating art fairs
Should art critics be artists themselves?
Don't believe the hype about Chinese art
Do we need art galleries anymore?
Message understood?
Arts Council collection online: what are your favourites?
USA Today won't be gone tomorrow
British galleries answer the call from Paris
This year's Turner a prize bore
The naked truth is that art-porn no longer shocks
Is the art world ageist?
French artists defend controversial images of childhood
ARTSY.COM
Isabel Lewis Offers a Glimpse into Her Upcoming Happenings at Frieze
You Are What You Eat: Martynka Wawrzyniak
Leo Gabin Adapts 'A Crack-up at the Race Riots' to Film
Style Highlights from Frieze London's VIP opening
A Walk Through the (Sculpture) Park with Frieze Curator Clare Lilley
Not Kidding Around: Pilvi Takala Hands Over her Emdash Award to Kids
ARTSLANT ARTIST INTERVIEWS
Delphine Boel
Sahra Motabeli
Matthew Morocco
Ivonne Thein
Betty Tompkins
Elijah Burgher
Raven Schlossberg
Ulrike Theusner
Lili Reynaud-Dewar
Dawn Mellor
Marlene McCarty
Elle Muliarchyk
Aslı Çavuşoğlu
Marinella Senatore
Molly Crapabble
Angela Liosi
Jazz-minh Moore
Nicky Broekhuysen
Ry Rocklen
Jeremy Hight
Joseph Akel
Jowhara AlSaud
Emilie Trice
Jay Batlle
Aziz and Cucher
Awst & Walther
Maxime Ballesteros
Sameer Reddy
Zhivago Duncan
Madeline Stillwell
Ariel Reichman
Kenno Apatrida
Eloise Fornieles
David Nicholson
Debating Photorealism with David Nicholson
WHITEHOT
SCULPTURE MAGAZINE ON-LINE
SUGARHIGH
[the art rockstars [a chat with tim noble and sue webster]](http://art.sugarhigh.de/the-art-rockstars/)
[the multi-tasker [a conversation with henrik vibskov]](http://art.sugarhigh.de/the-multi-tasker/)
[the art scribe [talking art with texte zur kunst's sven beckstette]](http://art.sugarhigh.de/the-art-scribe/)
[homecoming [a conversation with sterling ruby]](http://art.sugarhigh.de/homecoming/)
[the connector [taking shop with gallery weekend's michael neff]](http://art.sugarhigh.de/the-connector/)
[the art frat [a conversation with conceptual frat house the dicks]](http://art.sugarhigh.de/the-art-frat/)
[art royalty [a conversation with johann könig]](http://art.sugarhigh.de/art-royalty/)
[the unconventional curator [a chat with tape modern's amir fattal]](http://art.sugarhigh.de/the-unconventional-curator/)
[the international tastemaker [a conversation with francesca gavin]](http://art.sugarhigh.de/the-international-tastemaker/)
[the imported insider [a conversation with haunch of venison's anna erickson]](http://art.sugarhigh.de/the-imported-insider/)
[a new yorker in berlin [a chat with team gallery's josé freire]](http://art.sugarhigh.de/a-newyorker-in-berlin/)
V MAGAZINE
DAZED & CONFUSED (DAZED DIGITAL)
Dorothy's Dark Side
Seven Days in the Art World
Dazed Digital | Sahra Motalebi's Tender Mortal Means
Talk Dirty to Me
David's Lynch mob
ARTINFO
J.D Williams
Kristine Roepstrorff
IDOL MAGAZINE
ZINGMAGAZINE