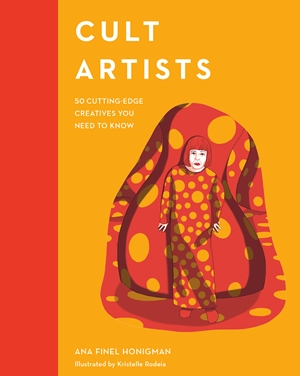 What makes a cult artist? Whether pioneering in their craft, fiercely and undeniably unique, or critically divisive, cult artists come in all shapes and guises. Some gain instant fame, others instant notoriety, and more still remain anonymous until a chance change in fashion sees their work propelled into the limelight.
Cult Artists handpicks 50 notable figures in the modern art world and explores the creative genius that earned them the 'cult' label, while celebrating the works that made their names. From the iconic Salvador Dalí and Frida Kahlo, to radical activists such as the Guerrilla Girls and Ana Mendieta. The artistic mediums explored are similarly varied, with sculptors, performance, graffiti and fine artists alike. From little knowns with small, devout followings, to superstars gracing the covers of magazines, each is special in their individuality and their ability to inspire, antagonise and delight.
Cult Artists is an essential addition to any art lover's library, as well as an entertaining introduction to our weird and wonderful art world.
The artists:
Dan Attoe, Balthus, Jean-Michel Basquiat, Jospeh Beuys, Christian Boltanski, Louise Bourgeois, Leigh Bowery, Chris Burden, Sophie Calle, Chapman Brothers, Judy Chicago, Joseph Cornell, Molly Crabapple, Salvador Dali, Niki de Saint Phalle, Marcel Duchamp, El Anatsui, James Ensor, H. R. Giger, Gilbert & George, Guerrilla Girls, Nan Goldin, Jenny Holzer, Donna Huanca, Dorothy Iannone, Frida Kahlo, Allan Kaprow, Mike Kelley, Yves Klein, Barbara Kruger, Yayoi Kusama, Kazimir Malevich, Christian Marclay, Ana Mendieta, Alice Neel, Herman Nitsch, Yoko Ono, Orlan, Genesis P-orridge, Carol Rama, Faith Ringgold, Mark Rothko, Mark Ryden, Carolee Schneemann, Yinka Shonibare, Malick Sidibe, Stelarc, Florine Stettheimer, Kara Walker, David Wojnarowicz.
https://www.amazon.com/Cult-Artists-Cutting-Edge-Creatives-Figures/dp/0711240299